The latest addition to my EPP block library is the Helianthus Block.
The Helianthus block was inspired by the Sunflowers that my sons and I like to grow in our garden each year.
We have fun guessing how tall they might grow and watching those big golden blooms follow the Sun as it moves over and around our garden each day. Now I can enjoy the glory of Sunflowers every day with this super cute little Mug Rug!
Read on to see how to make your own Sunflower inspired mug rug...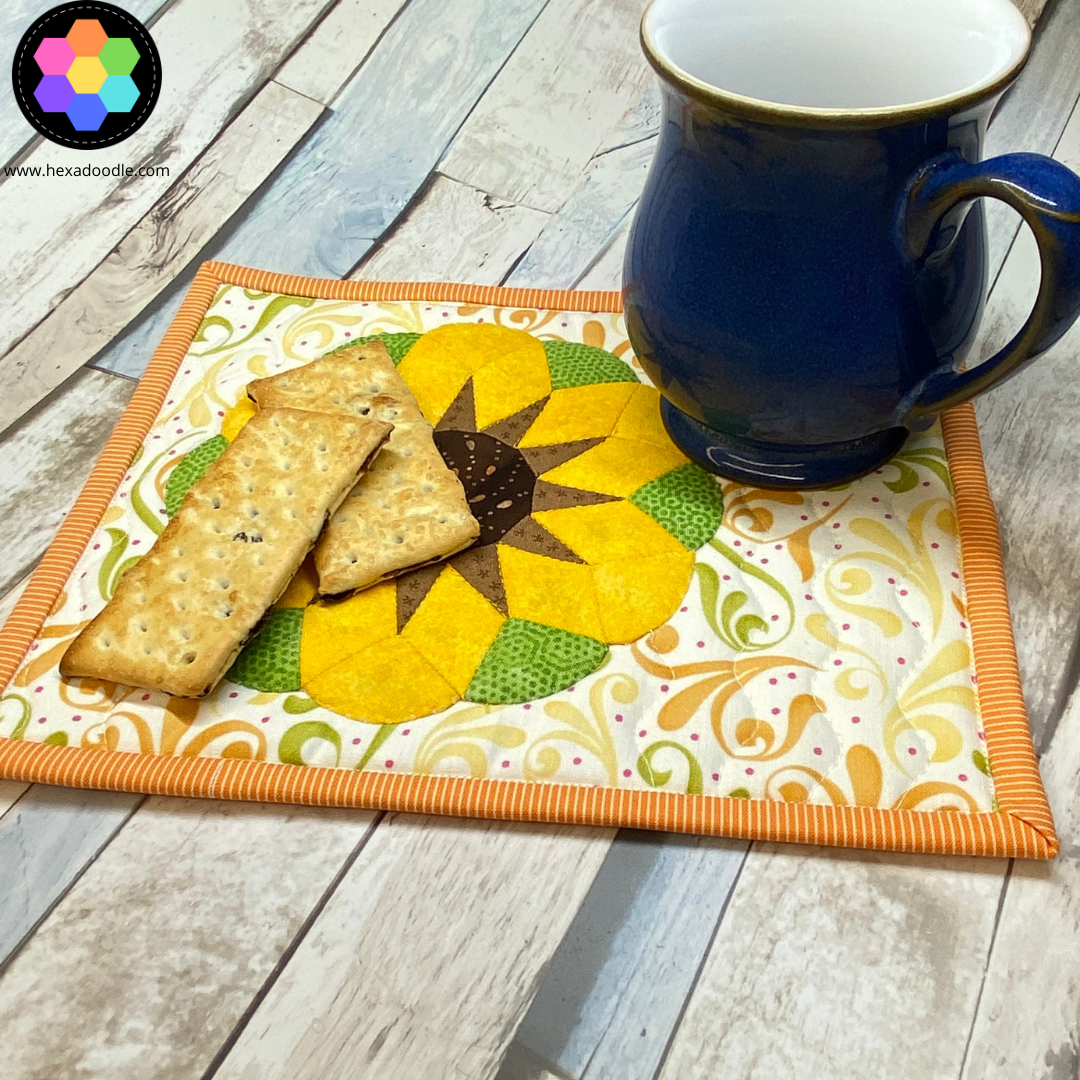 1. Supplies Required:
Background Fabric (10" x 8")

Backing Fabric (12" x 10")

Batting/ Wadding (11" x 9")

Binding (2-½" x WOF** strip)

Appliqué Glue

Spray Starch/ Best Press
2. Press and Starch your completed block and remove ALL the paper templates.
3. Apply small dots of appliqué glue to the back seam allowances on your Helianthus block.
4. Position Helianthus block on background fabric and allow to dry. Appliqué in place using your preferred method.
5. Create a quilt sandwich by layering the backing, batting and Mug Rug front. Quilt as desired.
6. Trim the quilted mug rug to 9-½" w x 7-½" h.
7. Bind your mug rug using the 2-½" WOF strip.
8. Pop the kettle on and enjoy a well deserved cup of tea and maybe a few biscuits. 😀
I hope you've enjoyed this tutorial and plan to make your own Sunflower inspired Mug Rug soon.
If you have any questions, please don't hesitate to reach out to me - I'm always happy to help xx
Happy Stitching,
Alison xx
Download your Helianthus block EPP Templates in 3 different sizes here
The block guide is also available with SVG files for sizing and cutting your own templates using your personal digital cutting machine such as Cricut Maker or Brother Scan n Cut.